This article was penned by W Energy Software's Vice President of Field Operations, Steve Haglund, for the January 2020 issue of Oilman Magazine. 
As an oil and gas operator, your profitability and cash flow depend on a clear and timely view of revenue. To achieve this in today's digital oilfield, producers must be able to rapidly and precisely track each digital barrel of oil through a complex information gathering system that extends to commodity markets and ends at the general ledger. Operators who adopt the right production operations solution and strategy can accelerate the flow of field data, increase workforce collaboration, and drive business performance.
Management of producing assets and financial planning hinge on efficiently connecting the field to the back office, however, attaining an accurate and up-to-date view of crude, gas, and NGL revenue is fraught with barriers and risks. Operators often rely on an unconnected or antiquated minefield of software for collecting, aggregating, allocating, and reporting production volumes and revenue. All too often, such systems create data silos that result in information delays, inconsistent data, and access constraints. This leaves production engineers and accounting teams with limited visibility into the field data they need to manage production operations, allocate volumes, cut revenue checks to interest holders, and comply with government reporting.
Consider the path that a typical digital barrel of oil takes, which starts at the wellhead. This data streams in from the field through a mix of manual data entry and automated data acquisition. Operators receive production volume information in multiple forms, from gauge sheets, spreadsheets, and SCADA systems. Volumetric data is often manually imported into a production accounting system for daily reporting as well as monthly allocation and reconciliation. Volumes and sales are then allocated back to individual wells and leases where division orders are applied to calculate payments to interest owners. There are a lot of moving parts, point solutions, and manual workarounds to get to the final income statement, injecting delays and error.
However, perhaps the biggest risk for operators is financial uncertainty. This explains why many operators augment their production and accounting software with manual calculations and spreadsheet-based solutions to validate results. The costs for an operator can be staggering, including the high cost for multiple software systems, G&A, and opportunity costs.
Building a production operations solution that provides the back office with an up-to-date and accurate view of crude, gas, and NGL production starts with centralizing well information management, or "warehousing data," in order to improve the way operators store, quality control, and distribute field data. In today's fast-paced and constantly evolving energy market, however, the solution needs to be non-disruptive, scalable, and cost-effective.
The cloud is a low-cost yet extremely reliable option to store data and applications that are easily accessible from any connected device. It is a simple concept with powerful benefits for oil and gas companies looking to solve field data management challenges.
Combining pumper-based field data capture and SCADA streams, the cloud becomes a hub for gathering production data and efficiently distributing information to people and applications.
Pumpers and lease operators are on the front line of field data capture. They are responsible for capturing daily wellhead and other field measurements supplemented with machine-read, SCADA based data. These field staff coordinate and track events surrounding the movement of produced crude, gas, and water.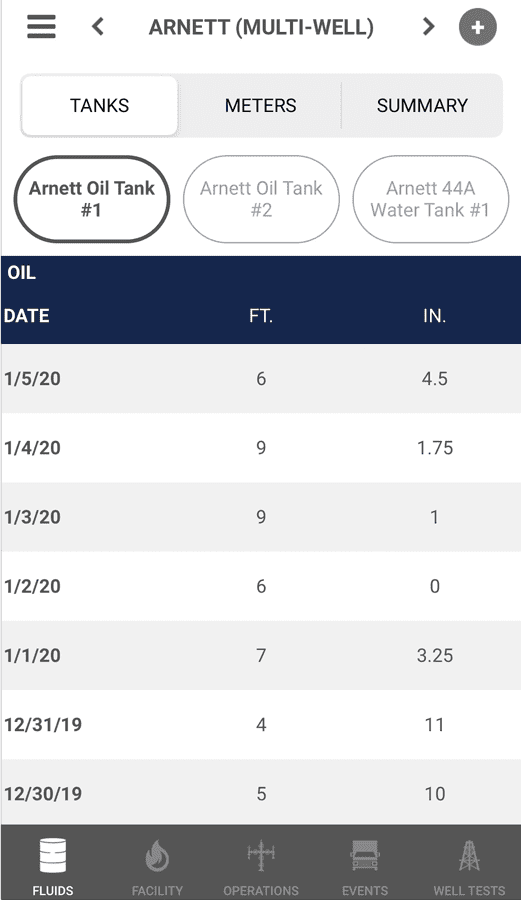 Mobile Pumper Field Data Capture App Synchronizes Production Volumes with the Cloud
Pumpers are also integral to optimizing production, reducing well downtime, and responding to operational exceptions. This makes field staff key to both acquiring field data and leveraging insights for the back office, underscoring the need to efficiently share and collaborate around a common set of data. Cloud-based production operations solutions can support pumper workflows with mobile field data capture technology that once validated, upload directly to a cloud-based data warehouse, which synchronizes data and analysis between the field and back-office.
If pumpers are the front line of field data capture, the engineering and operations team are the front line of analysis. This team tracks production and monitors well uptime along with a variety of operational KPIs against their targets. They also provide critical input into production optimization and determine whether wellbore remediation investments are required.
Cloud-based production operations solutions can stream field data directly to integrated software tools that generate the reporting and analysis production engineers rely on, including production dashboards that provide a real-time view of asset status, volumes, and operational exceptions. By providing a daily view of production, staff can rapidly identify and resolve field data quality issues. And by minimizing variance between daily observed volumes and actual sales reported on revenue statements, operators can seek to minimize discrepancies upon performing monthly reconciliations.
What's more production operations solutions that bring data and applications together in the cloud create new opportunities to rapidly respond to shifting conditions in the field, including complex allocation networks that constantly evolve. Such a solution is also capable of visually defining and updating field assets and allocation networks on a daily basis, significantly reducing errors and yielding more accurate allocations.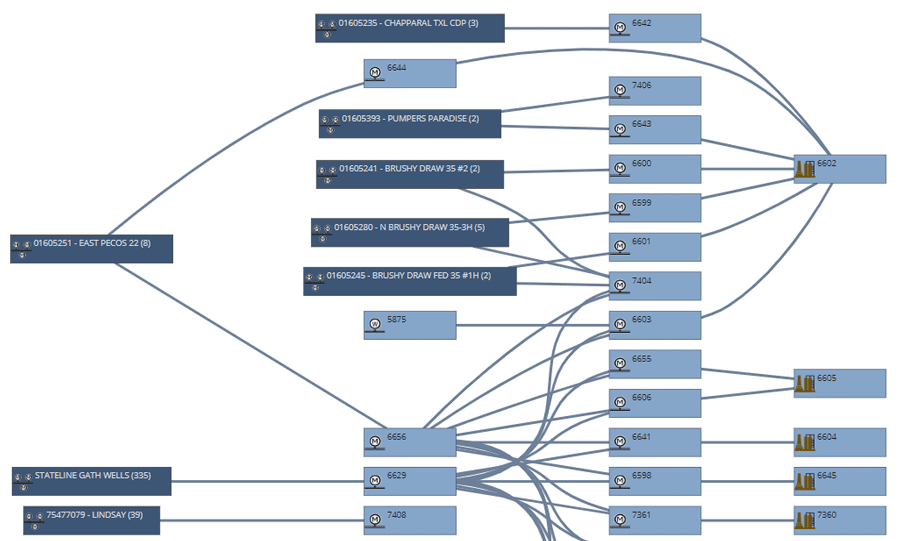 Interactive Visual Representation of Field Assets and Allocation Networks
Production accounting is driven by daily and monthly reporting cycles. Accounting teams must be able to track production and field sales as well as perform daily allocations leveraging observed numbers. Monthly allocations are performed and observed production reconciled with sales volumes. And because many operators may also hold non-op interests, volumes and revenue from these wells must also be incorporated into the production accounting process.
Adding complexity, production accounting teams must also allocate buyback and production expenses, such as water disposal charges. And federal and state entities require operators to report sales, production, and monthly inventory based on operating requirements.
With a modern production operations solution built on the cloud, production accounting teams can simplify reconciliation, allocation, and reporting while closing the month faster than ever. The benefits extend into revenue accounting as well. By integrating production and revenue accounting in the same cloud-based solution that shares a common and consistent dataset, division orders and payments to interest owners can be rapidly processed. And by tracking the movement of crude, gas, and NGL volumes and sales through a single platform, operators gain unprecedented capabilities to audit and trace revenue at every stage.

Calculation Trace Enables Complete Auditing of Oil and Gas Revenue at Every Stage
A unified production operations solution built on the cloud offers scalability and affordability while accelerating data acquisition, processing, allocation, and financial reporting. That digital barrel of oil that used to take weeks to travel from wellhead to the accounting department can now make the trip in minutes by eliminating data silos and manual processes. As a result, operators can finally connect the field with the back office to gain the up-to-date view of production and revenue they need to manage cash flow, accelerate revenue disbursement, and simplify compliance.
Operators looking to benefit from the cloud and an integrated software platform are increasingly turning to W Energy Software. The company pioneered the oil and gas industry's only unified production operations solution built on the cloud that features modern field data capture tools, production reporting, visualization of assets and allocation networks, and an advanced allocations engine. As a fully integrated upstream ERP platform, production accounting seamlessly flows into revenue and financial accounting where production volumes are linked with actual commodity pricing to provide operators with a precise view of their financials. Wellbore work and other well-related field costs can also be tracked, accelerating the processing of both revenue and expense data streams. At the same time, W Energy Software simplifies the monthly regulatory reporting process by bringing all necessary data together and providing out-of-the-box reports.
Yet the most valuable benefits of a unified platform and W Energy Software are stability, predictability, and reliability. By eliminating the need to maintain the dozens of software applications and tools that operators have historically relied on and providing a common and consistent dataset, W Energy Software elevates confidence in your analysis, calculations, and financial results. When combined with increased performance, that trust can empower an operator's workforce, reduce risk, and accelerate business performance.
Headquartered in Tulsa, Oklahoma, W Energy Software (formerly Waterfield Energy) offers the oil & gas industry's only unified ERP solution built for the cloud that is relied on by more than 100 upstream and midstream companies to accelerate business performance, improve operational efficiency, and drive costs down.  W Energy Software combines precision-built software in one extendable cloud-based workspace with an intimate understanding of the oil & gas business to deliver solutions that offer flexibility, affordability, and continuous upgrades. Unlike other ERP software that loosely ties together a mix of legacy solutions and fragmented technologies, W Energy Software designed a unified upstream and midstream ERP platform to seamlessly track oil, gas, and NGL from the wellhead through transportation and marketing, eliminating data silos as well as the burden and costs of maintaining multiple systems.  With W Energy Software, oil & gas companies stay lean and agile with the tools they need to adapt to market changes and meet evolving customer needs head-on, all while gaining the confidence that their business is running on the latest technology. For more information, please visit https://WEnergySoftware.com.
---
| | |
| --- | --- |
| | Steve Haglund, VP of Field Operations Solutions, W Energy Software Steve has over twenty years of experience in strategy, business development, operations, and integration in the information technology and oil & gas industries.  Previously, Steve was CEO of NeoFirma, acquired by W Energy Software in 2019.  Prior to that, Steve was co-founder of Insolexen, a Michigan Fast50 recipient as well with Anderson Consulting (Accenture). webMethods, Baker-Hughes, and FMC. He enjoys listening to live music, working on his golf swing, and traveling with his wife, son, and daughter. |